How to Train Your Older Dog to Track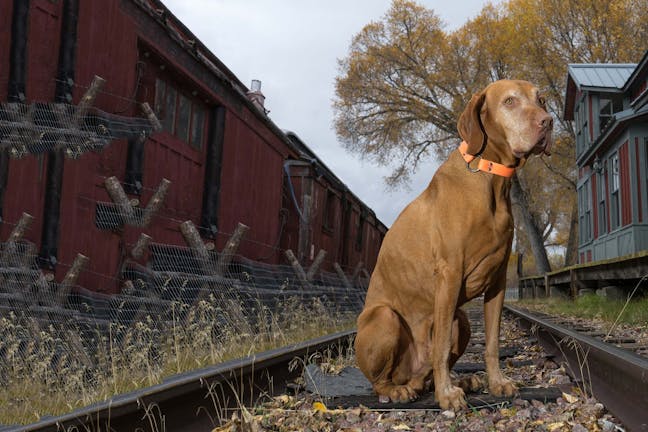 Introduction
Tracking requires your dog to use his nose to pick up a scent trail and follow the scent trail to locate the scent's source. Your dog's nose is incredibly perceptive; his sense of smell is 2,000 times more powerful than yours and it is one of his main sensory tools. Using this sensory tool to track a scent trail is usually fun for your dog, and can be a useful skill or tool. Dogs are frequently used to track in hunting, to identify contraband, and to provide assistance in search and rescue operations. Even if your dog is not going to be a "professional" tracker, teaching him to track is a fun game. Some dog breeds such as hounds and other sporting dogs are particularly adept when given a scenting task, and teaching your dog to track provides them with a purpose and an activity that is beneficial to them mentally and physically.
Top
Defining Tasks
Starting tracking work when a dog is young is the norm, however, any dog, even an older dog, can be taught to track and excel at it. With an older dog, you may need to start out with encouraging them and teaching them how to use their nose to locate food objects as a game. Make sure that it is a fun activity-- reward your dog for success, but never punish them for not successfully picking up a scent and locating an object.
Top
Getting Started
Your dog should know basic obedience commands such as 'stay' and 'come' before teaching more complex tracking behaviors. If working outdoors in an open area, you will want to have a long leash that allows your dog to roam around and look for scent, and to keep your dog safe. If you choose to work off-leash you may want to use a GPS collar in case your dog becomes separated from you. Ensure they have an ID tag as well. You will need treats to reward your dog for successfully tracking. You can use smelly food items such as hot dogs or a toy or cloth covered in animal scent to create scent trails.
Top

Introduce a reward
Hold a piece of your dog's food in one hand and close both hands.
Hide the reward
Present both closed hands to your dog and ask your dog to "Find It".
Reward or retry
If your dog chooses the wrong hand, open both hands to show him the treat but do not give it to him. If your dog chooses the correct hand, provide the treat.
Increase difficulty
Work up to hiding the treat in other containers such as boxes and hiding the treat around the house, give your dog the "find it" command.
Encourage!
When your dog locates the treat, provide him not only with the treat, but lots of attention and praise. Your dog will learn to start using his nose to locate objects and this skill can be used to track other types of objects and follow scent trails outside.

Choose a spot
Start early in the morning, in a grassy area before people and other animals have started to lay down scent trails.
Introduce a scent
Have your dog stay, and take a hot dog or other smelly food and crush it on the ground under your foot to get the scent of the food on the sole of your shoe.
Create a trail
Walk away from your dog in a straight line. Every 2 or 3 yards drop a small piece of hot dog. At the end of the trail, drop a toy with the remaining hot dog. At first, the trail should not be too long only about 10 yards.
Follow the trail
Release your dog and encourage him to smell the ground and give the track command such as "find it". Encourage, but do not interfere. Let the dog find the scent and follow the scent trail and get their reward.
Increase difficulty
Repeat this process multiple times over a period of weeks, gradually creating longer and longer trails with more twists and turns on the scent trail. Eventually, you will be able to apply this skill to tracking other scents in large areas.

Capture a scent
Put animal scent on a cloth or toy. Have a friend or neighbor rub their cat, rabbit, or dog with the cloth or towel. If possible, get some urine on the cloth.
Create a trail
Create a scent trail in your yard or in an open area and hind the scented object at the end of the trail
Introduce the trail
Bring your dog outside, and let him loose or keep him on a long leash near the scent trail.Give the "find it" command. Encourage your dog to find the scent, but do not interfere. Let him find the scent himself and follow it to locate the scented cloth.
Increase difficulty
When your dog finds the cloth, give him lots of praise, attention, and treats. Repeat the activity, finding new hiding places. Gradually make the trail longer and more complex.
By Amy Caldwell
Published: 09/20/2017, edited: 01/08/2021
---