How to Train Your Dog to Not Eat from the Counter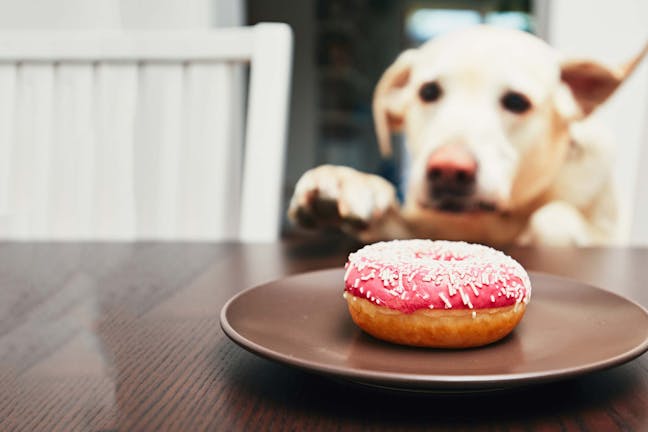 Introduction
Have you ever found yourself turning away from the food you are preparing on the counter for a couple of minutes only to turn back around and find it missing?  That amazing sandwich you have been drooling over is the same one your pup has been waiting for, but it was for you, not him. Of course, he didn't know it… well, that sheepish look on his face says otherwise. "Counter surfing" is considered any time your dog steals food from the kitchen counters, the dining room table, or any other raised surface.
Dealing with this type of behavior on a regular basis can be very frustrating for you and depending on what your furry friend is scarfing down, could be bad for him as well.  The good news is that there are various ways you can teach your dog to put an end to his "surfing" days. You can, of course, teach this skill to most dogs at any age, but it is going to take a little time and effort on your part as well as his.
Top
Defining Tasks
In reality, once your pup has learned his surfing days are over and that he needs to stop sneaking snacks, you should no longer need any type of command. The bad news is that this is not a behavior you will be able to train him out of in a hurry. It can take weeks or even months before he gets the idea. More importantly, since scavenging for food is in your dog's DNA, you may never completely break him of this habit.
However, you must be prepared to do your part to discourage this behavior as well. This means keeping counters and tables clear of food when you are not there to keep a very close eye on your dog while he is learning to behave. By doing this, you are ensuring your dog never gets a "reward" for his efforts. If the counters or tables have nothing to offer, this will soon discourage him.
Top
Getting Started
As mentioned above, the first step in training your dog not to eat from the counter is to make sure that unless you are there to supervise, there is nothing for him to eat on the counters. The absence of tasty tidbits takes away his reason to jump up and seek them out. Be patient, have a great attitude, and as with all forms of training, always start out with the least possible number of distractions. Beyond this, here are three training methods you can use to train your pup to mind his own business.
Top
The Four on the Floor Method

Get to work
Start preparing your food.
Invite your dog
Allow your dog in the kitchen while you are preparing food.
Reward good behavior
If he has all four of his paws on the floor, give him a treat and tell him he's a good boy.
Identify bad behavior
If he tries to jump up to the counter, tell him "No!" and do not give him a treat.
Repeat
Each time he has all four on the floor, repeat the treat and praise step.

Be ready
When your dog jumps up to the counter to get at the food, have a dog treat ready for him.
Distract
Place the treat in front of his nose to get his attention.
Lead with a treat
Slowly lower the treat down to the ground while giving the command "Off!"
Reward and repeat
Give him the treat when he obeys and repeat this same process several times.
Remove the lure
Now try the same command without using a treat to lure your pup.
Reward!
If he obeys the "Off!" command without the lure, be sure to give him plenty of praise and a treat.

Choose a location
Place his bed or mat where both of you can see it from the kitchen.
Train to his mat
Make him go and lay on his bed using the "Lie Down!" command and give him a treat when he complies.
Get to work
Start preparing your food and keep an eye on your pup.
Keep him at his mat
If he gets up and starts coming to where you are working, tell him to lie down again.
Reward!
If he stays on the mat, more treats and praise.
Repeat
You may have to rinse and repeat this process many times during the first few sessions until he starts to get the idea it is more rewarding to stay on the mat or bed than come into the kitchen in search of food to steal.
By Amy Caldwell
Published: 09/26/2017, edited: 01/08/2021
---