How to Train Your Dog to Not Drink from the Toilet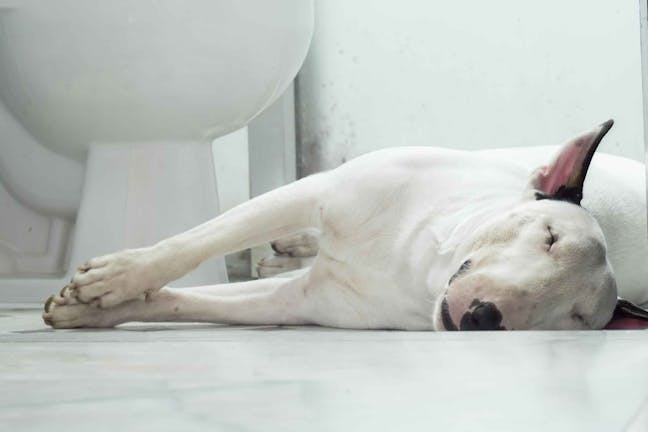 Introduction
You open the front door and enter the house, but you hear the faint sound of trickling water coming from somewhere in the house. Your initial thoughts are 'is the radiator leaking, did I leave the tap on?' But then you remember you have a weird and wonderful dog, who only seems to be able to quench his thirst by drinking from your toilets. For most people, it's a humorous cliche, but for you, it's a bizarre reality.
The problem is, drinking from the toilet as you can probably imagine, is not great for his health. Toilet water is packed full of all sorts of bacteria that you wouldn't want anyone or any dog to digest. Training him to steer clear of toilet water could save him from a serious illness, including worms, and no dog should have to endure the discomfort and pain that come with an infestation of worms!
Top
Defining Tasks
Training your dog not to drink from the toilet will involve not just obedience commands, but also taking steps to limit his access to the toilet too. On top of that, you will need to use positive reinforcement to encourage him to drink from his water bowl instead. This is vital training to keep your dog healthy, happy and free from expensive vet bills.
While the training itself may be relatively straightforward, it can be time-consuming to break a bad habit. For that reason, training younger dogs will be easier than training older dogs, who are often stuck in their ways. If your dog is young and receptive, you may need just a few days to flush out the bad habit. For older dogs, be prepared for it to take weeks. However long it takes, consistency and patience are key if you want your toilet to be a dog-free zone!
Top
Getting Started
Before you get up close and personal with your toilet water, you need to get several things together. For the positive reinforcement, you will need treats or your dog's favorite food. You will also need a water bowl for him to drink out of instead!
For one of the methods, you will also need to get your hands on a toilet lid lock which can be bought from a number of stores and online retailers. 
The only other things you need are a proactive attitude and probably some hand sanitizer! Once you're fully equipped it's time to get to work!
Top
Clean and fill
Clean your dog's water bowl, fill it with fresh water, and place it in an area where he can easily access it and will always know where to find it. Keep a regular eye on the bowl to ensure there is plenty of fresh water in it.
No-go zone
Make the toilet a no-go area. Time for you to limit his access to the toilet. This will involve sitting down with your family and laying out some ground rules: 1. Always close the toilet lid. 2. Close the bathroom door after use, or pull it so he can't get in. Simply by preventing access to the tasty toilet water, he will be forced to get into the habit of going to his water bowl for hydration.
Gadgets
If you have a big family with young children, getting them to always close the lid and doors can be challenging to say the least, and you don't want to become known as the toilet police. Instead, utilize gadgets like a toilet lid lock. These fit discreetly on your toilet, they're relatively cheap and they will keep that lid firmly down!
React swiftly
Be quick to pull him away from the toilets if you see him lurking around. Quickly pull him away or instruct him to go to his bed if you do see him approaching. This will quickly highlight to him that this behavior isn't acceptable and that he will be removed from the vicinity if caught.
Be consistent
The hardest part of this training is consistency. To fully break the habit, you need to ensure he never has access to the toilet and that you always discourage him when you catch him near a toilet. The more persistent you are, the quicker he will break the habit and cement the water bowl habit instead.
More water bowls
You need to get him into the habit of going to a water bowl instead of the toilet. Ensuring water bowls are readily accessible will help with this. Place several water bowls around the house, in his favorite areas. You could even put them outside the toilets so there is no need to go into the toilet at all.
Try different water bowls
Some dogs can be fussy about their bowls, they may not like the sound from a metal bowl for example. So try a plastic or ceramic bowl, you could even try a pet fountain. This is a quick and easy way to establish whether it is the bowl that is underlying problem.
Try raising his water bowl
As dogs get older, they can develop arthritis in their neck and shoulders. It may be a strain to reach the bowl and the discomfort and pain may be discouraging him. Simply putting his bowl on a raised platform may alleviate this problem entirely.
Try sprucing up his water
Your dog may like the abnormal taste of toilet water, so try enticing him to his water bowl with some extras. You could drop a couple of ice cubes in there or you could add some frozen berries.
Remove temptation
While you're encouraging him to go for his water bowl, keep the toilet lid down and the bathroom door closed, this will help to break his not-so-hygienic habit.
Be vigilant
This method involves being around him as much as possible to encourage him to go to his water bowl, so you can reward him when he does. This can be made easier by knowing when dogs like to drink, such as after a long walk and after food.
Treat
When you think he is about to drink water, take out a treat and go to his bowl. Call and lure him over with the treat if needs be.
Put the treat in the water
Now he will have to go into the water bowl to retrieve the treat, and if he is thirsty anyway he'll skip the hassle of heading to the bathroom and utilize the bowl instead. When he has finished the treat and drank from the bowl, be sure to praise and pet him.
Keep up the food incentives
The key to breaking his toilet water habit is getting him into a water bowl habit. So keep a close eye on him and use treats daily to encourage him to head for the water bowl. Soon he will actively go over to his water bowl and drink from it just for the hope of a treat.
Lose the treats
Slowly cut down the frequency of treats. As he starts to migrate to the water bowl frequently, slowly cut down the number of treats and praise, until he uses he water bowl without the promise of any food.
By James Barra
Published: 11/05/2017, edited: 01/08/2021
---