How to Train Your Dog to Not Beg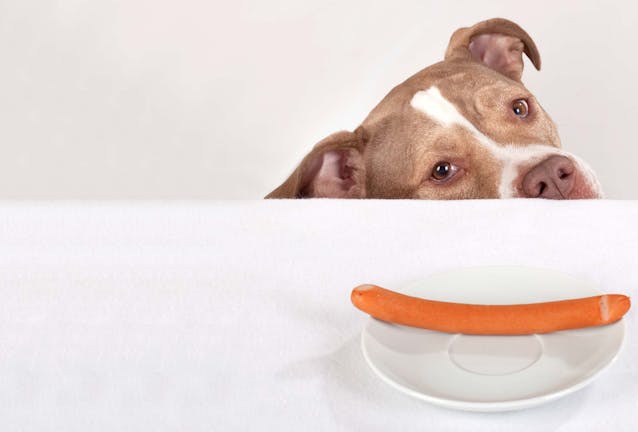 Introduction
Having a dog brings with it a world of joy. You have someone to cuddle with while you watch your favorite show and you finally have a member of the family who can't argue back. But while having a dog is relaxing, for the most part, it isn't so relaxing when they constantly pester and beg you for food whenever you sit down to tuck into a tasty meal. You just want some peace and quiet to enjoy every mouthful of that delicious snack, without the feeling of guilt you get when you look down at your endearing dog.
It's all fun and games to start with, but you gave in too much at the beginning and now you can't eat anything without sharing it with your canine friend. But enough is enough, you don't want to share anymore and you don't want guests being pestered for food by your dog either.
Top
Defining Tasks
Fortunately, training your dog not to beg is relatively straightforward. It will involve obedience training so you can send your dog out of the room when you're eating. It will also involve patience and some willpower not to give in to your doggie pal, no matter how cute they look. That means you will have to toe the party line with the rest of the family; it needs to be a group effort.
With a puppy, successful training can take just a couple of weeks, but with older dogs who have been begging for years, a few extra weeks may be needed to fully break the habit. But don't be put off by the time it takes, it is more than worth it to have a well-behaved dog, who leaves you to relax with your food and doesn't pester you or guests when you're feasting.
Top
Getting Started
Before you get to work with your dog, you will need a number of things. Get hold of some doggie treats or break their favorite food into small chunks. You will also need a quiet room, free from distractions.
Then get a leash and, perhaps most importantly of all, find all your resilience, a begging dog could charm the pants off even the iciest of souls.
Once you have all those things, set aside 10 minutes a day for the next few weeks and you're ready to tackle your begging dog once and for all.
Top

Call a family meeting
You need to inform the whole household that no one under any circumstances is to feed the dog anymore, unless it is in their bowl. No matter where you are eating, you do not give any food to your dog when it begs, no matter how cute it looks or how loud it whines.
Do not make eye contact
If you are sitting on the sofa snacking and your dog comes to beg, ignore him. That also means don't look at him. Just by giving it eye contact you are telling it that sitting there will get your attention. If he starts to whine loudly and doesn't give up, take him out of the room and shut the door.
Keep your dog around when you're eating at the table
As soon as he starts begging, put him in his crate or use a leash to secure them to something near their bed until you have finished eating. Showing them they will be excluded if they beg will reinforce that begging is the wrong behavior.
Do not talk or interact with your dog at all while you are eating
Whether you are at the table, on the sofa, or seated outside, do not engage in any way with your dog. Any physical or verbal interaction fuels their mental state. Only the coldest of shoulders will reinforce that this is the wrong sort of behavior.
Be patient
Dogs are creatures of habit and they won't transform overnight. Instead, you need to practice the cold shoulder all day, every day and sometimes for many weeks. Just be persistent and don't feel guilty, eventually they will learn begging gets them nowhere and because they yearn for your attention, they will stop doing it.

Get some treats and take your dog into the room where their bed is
You are going to teach your dog a command that will send them to their bed or place. That way whenever your dog begs, you can quickly send them away and enjoy your food in peace.
Stand close to their bed and say 'BED'
As you say this, lure them onto their bed entirely, until all 4 feet are on their bed or mat.
Reward your dog as soon as they fully enter their bed
The trick is to reward them within 3 seconds. Any longer and they won't associate the command with the reward.
Slowly increase the distance and time
After several successful attempts, slowly increase the distance you are from their bed when you instruct them to go there. Lure them with a treat each time if you need to and be sure to reward them every time. Practice this for 10 minutes a day until you can send them to their bed even when you are in a different room. Also, slowly increase the time they lay on their bed before you give them the treat. Keep upping the time until you can leave them there for 10-15 minutes before they get up.
Sit down on the sofa or at the table with food and repeat
When they start to beg, exactly as you did before, instruct them to go to their bed and lure them with a treat if need be. Keep practicing this each time you eat and they beg. When they have the hang of it, slowly reduce the frequency you give them treats until they are no longer needed at all. The key to this technique is consistency. If you send them away every time and master the 'bed' command, you will always be able to rid yourself of your begging dog whenever you desire.

Get into a room that has no food or toys
This is going to be the 'time out' room that your dog goes in when they beg for food. The idea will be that the room is so boring they won't want to risk begging in case they get sent there.
Eat as you normally would
Keep a close eye out for your dog, you need to be ready to act swiftly when they beg.
Send your dog away, or place them in the time out room
Try and send your dog to the room. If this doesn't work, place them in the time out room. After several minutes, let your dog back out of the room and continue with your meal.
Repeat as necessary
If your dog comes back to you and begs again, place him back in the time out room. Again, leave them there for a few minutes and bring them back out. Even if they whine and bark, it is important you totally ignore them.
Be consistent and get everyone on board
The key to success is sticking to this method for as many days or weeks that it takes. You may have many long meals and they may frequently go cold, but it will be worth it in the end when your dog breaks the begging habit. It is also essential you get the rest of the household on board. If one member of the family doesn't stick to the time out rule, the dog will be confused and success will take much longer. So be patient, consistent and work as a team because eventually the time out room will be enough of a deterrent that your dog gives up begging for good.
By Amy Caldwell
Published: 09/20/2017, edited: 01/08/2021
---