How to Train Your Dog to Heel Without a Leash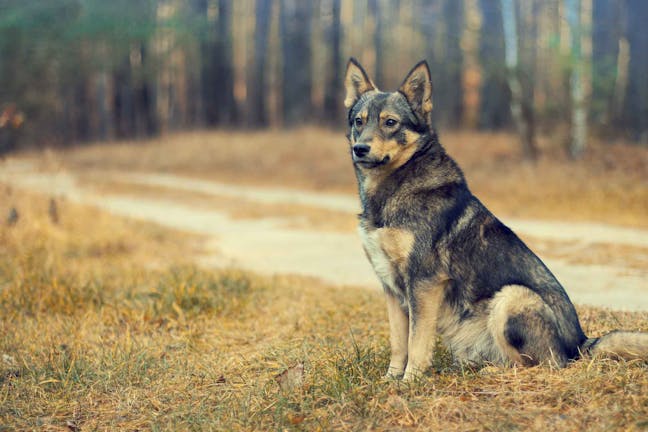 Introduction
Have you been out for a walk with your tugging, pulling, distracted and rambunctious pooch only to see another dog and human couple calmly walking side by side? Or maybe you've been switching channels and managed to happen across an obedience demonstration online. Being able to calmly walk next to your dog isn't just something to aspire to. Obedient walking by your side, also known as a 'heel', is an important part of being able to enjoy outdoor activities with your pet. The feat may seem hard enough with your dog tethered to your side, but many are also able to walk with their dog in a heel position, off-leash. Healing without a leash isn't just a pipedream, it's a teachable skill that just takes a little bit of time for both your pet and yourself to master.
Top
Defining Tasks
Heeling without a leash refers to the position that your dog is in either at a standstill or while walking. Heeling happens when your dog is at your side, either left or right. Many dogs like to forge out ahead or linger behind and can still maintain a loose leash while doing so. In a heel, your dog learns to stick by your leg and watch only you. This is a valuable skill for walking in close confines such as city sidewalks or crowded parks and heeling without a leash can often come in handy while trekking through brush or in areas where leashes may be inconvenient.
Top
Getting Started
Before you start teaching your dog to heel without a leash, you're going to need to gear up. Even though your goal is to remove the tether, you should start out with a nice, comfortable leash and flat buckle collar for your dog's safety until he's solidly mastered the command. Treats and a convenient treat bag are also great items to have since you're going to need to get and keep your dog's attention.
Finally, your pooch should have loose leash walking mastered before teaching a heel, as this foundational behavior will make learning the modification much easier. There are a variety of different methods for teaching your dog to heel without a leash. Like people, dogs learn in different ways. Try one or more of the methods on for size to see which is the best fit for your dog.
Top
Get ready
Start out with your dog walking on leash and your treat bag fully loaded. Be sure to work off a bit of energy and let your dog pee and sniff a bit before getting down to work.
Lure
Place a treat in your hand and, while still walking, call your dog to you. Keep walking while you treat your dog.
Keep it up
As soon as your dog finishes the treat and starts to head back to the end of the leash, immediately offer up another treat so that your dog wants to head back in your direction and is constantly checking in, thinking she'll get food.
Increase duration
When your dog is reliably checking in for treats, slowly lengthen the time in between food rewards.
Add a command
Apply a command to the behavior, saying the word "heel" before administering a treat. Treat as long as your dog remains by your side. Slowly increase your demands, only rewarding when your dog is at your side for longer and longer periods of time and when her body position is in the ideal heel.
Challenge
One you've mastered this on-leash, it's time to take off the training wheels. Practice off-leash heeling with treats in the backyard and slowly work up to distractions of people and other dogs until your pup is reliably heeling without a leash.
Hit the road
Start out with your dog walking calmly on leash. You may want to walk for some time before starting the training to help alleviate any excess energy.
Lure
In your left or right hand (depending on which side you want your dog to learn to heel) you should be carrying a toy or spoon that's been coated with peanut butter. After your dog has had a chance to burn off energy, get her attention with the toy or food.
Lead with the lure
Keep walking and allow your dog to tug on the toy or lick the spoon while at your side. If she stops walking by your side, remove the spoon or the food. Do this continuously for several minutes at a time, multiple times a day over several days until your dog begins to associate following alongside you with a tasty or fun reward.
Decrease the lure
Once your pup is reliably following alongside you with the toy or spoon, bring your hand up from time to time and remove the constant treat. Your dog should keep walking and may look in anticipation at the item. Occasionally drop your hand and allow her to have the reward. Slowly increase the amount of time in between rewards until she is following alongside reliably without constant treating.
Off-leash
Once your dog has mastered this behavior on leash, work through the steps again but this time without a leash. You may see some regression in behavior but don't give up. If need be, up the "value" of the reward with a tastier food item (frozen beef on a stick, anyone?) or a more exciting toy. Slowly increase the amount of time your dog goes between treats along until she is reliably heeling by your side without a leash.
Jump start
The "watch me" or "look" method of teaching 'hee'l is great for dogs that have some advanced training under their belt. If your dog already knows the 'watch me' command or 'look at an object' command, you can combine these behaviors with walking to help jump start heeling without a leash. Start out by walking with your dog loosely on a leash.
Give the command
While walking continuously, give your dog the "look" or "watch me" command to make eye contact. If your dog is out ahead of you, this will cause her to turn back around. Reward instantly for the appropriate behavior.
Target
After your dog is looking while on leash reliably, ask for her to watch your hand or leg. Point to the spot and say "watch", just as you would if you were holding still. You may need some tasty treats to both bribe and reward good behavior here.
Stay in motion
Watching a spot such as your hand or leg while you continue to walk will naturally put your dog into a 'heel' or 'by your side' position. Remember to praise and treat and maintain a brisk walking pace so that your dog learns the appropriate behavior involves movement and not simply a 'come' or 'sit'. Slowly increase the length of time between the commands and treat spontaneously if your dog remains by your side. This lengthening of time in between treats will be the foundation for a solid heel.
Lose the leash
Once you've mastered the on-leash heel, start out in a quiet, distraction-free space to teach heeling without a leash. Use the exact same methods and don't be worried if you need to take a few steps back in order to move ahead in your training. Before you know it, you'll have a super obedient pooch that knows how to heel both on the leash and without.
By Kimberly Maciejewski
Published: 01/29/2018, edited: 01/08/2021
---