How to Train Your Dog to Go Potty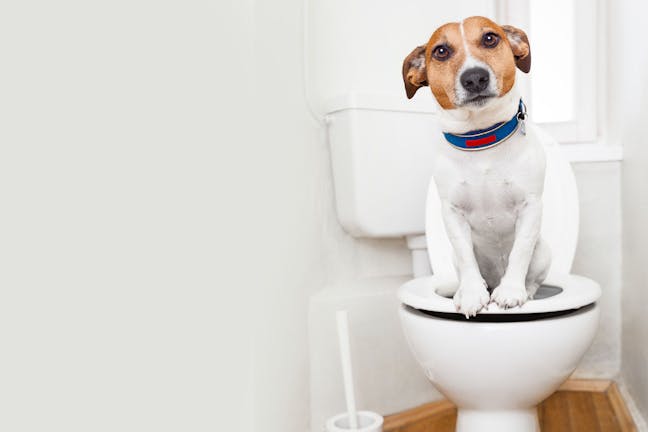 Introduction
You rush home after work to get your puppy outside to go to the bathroom, but instead, find a home interior that's been decorated with poop and urine.
The rescue dog that you've just adopted has a hard time understanding when and where she should potty because she was never trained properly in the first place.
Potty training a dog can be a frustrating experience, but cleaning up after an untrained dog in your home is worse. Many dog owners aren't sure where to begin and end up making mistakes that can delay the training process or result in serious behavioral issues in their dog.
Regardless of his age, training your dog to eliminate outside can be trying, but it's far from impossible. Here are some steps to help you potty train your dog, as well as some actions to avoid.
Top
Defining Tasks
Teaching your dog to eliminate outdoors is a critical component of dog ownership. Your pup needs to understand what you are asking him to do, and as such, you need to be a clear communicator and teacher. You will need to teach to your dog's personality and strengths, or else risk serious damage to your dog's psyche and to the relationship you both have with each other.
Understand that you are working against a dog's naturally inherent instincts. In the wilderness, dogs and their ancestors go to the bathroom wherever they please. Therefore, it's up to you to clearly specify to your dog where and when he can eliminate.
Depending on your dog's age, this training process can take anywhere from a few weeks to six months or so. Be prepared for an occasional accident or two even after your dog has been trained, and understand that sometimes accidents happen!
Aside from keeping your home sanitary and clean and instilling a sense of respect in your dog for your position as leader, potty training your pup will help him avoid an all too common fate for dogs whose owners gave up on potty training them: being surrendered to a shelter.
Potty training can be accomplished successfully, but you need to make sure that you are consistent and clear in what you are asking of your canine.
Top
Getting Started
Here are some essential elements and items that you will need to get started with potty training your dog:
A leash and collar: These equipment items will help you retain control over your dog when you are outside.

Training treats: Small, healthy training treats can be used as reward and motivation for whenever your dog does what you've asked.

Poop scooper and waste bags: Responsible dog owners clean up after their dogs, even outdoors.

A dog crate: Puppies and adult dogs can benefit from a sturdy, sizeable crate which will help speed up the potty training process.

Cleaning products: Have appropriate, non-toxic, pet-friendly cleaning devices on hand to thoroughly clean any accidents, so your dog doesn't eliminate in the same spot repeatedly.

Time and patience: Without these traits, potty training will be a challenging and uphill battle. The process will not happen overnight. You need to be patient and consistent, as well as willing to put in the time and effort to help your dog know what you want from him.

A fenced yard or puppy pen: While these forms of security are optional, they can assist the potty training process by giving your dog a specific, safe spot to eliminate in.
Once you have these items, what's next? Review your schedule and begin to find consistent time periods to encourage your dog to potty outside. Ideally, right after the dog eats in the morning and the late afternoon and evening would be best. Your dog and his body will quickly associate going outside after dinner is done.
Another key to getting your pup on board with potty training is to choose a command, a particular word or phrase that he will learn to associate with going to the bathroom outside. Consider a phrase such as "Let's go," "Good potty," or "Do your duty." Once your dog associates this command with your request, he will understand that he is to go potty outdoors.
Top
The Potty Pad or Paper Method

The concept
If you live in a high-rise apartment or if you struggle with mobility issues, getting your dog outside to potty quickly is an impossibility. In these situations, potty training your dog to use pads or newspapers may be the best option for you and your dog.
Supervise your dog at all times
If you take your eye off your dog before he learns how to use the potty pads, you'll have accidents to clean up. Keep him on a leash and beside you until he learns where to go.
Strategic placement
Be sure to place the potty pads or papers in a spot that is easily accessible for your dog. Don't move the pad around during training or you may confuse your pup.
Use a code word or phrase
When you lead your dog to the puppy pad, repeat a code word such as "Good potty" or "Get busy." Repetition of this step will help train your dog to eliminate on command.
Create good habits
Bring your dog to the puppy pad repeatedly, every five minutes or so, until he goes to the bathroom. The time frame here may vary depending on the dog's age, as puppies may need to be brought back to the pad more frequently.
Don't punish mistakes
It may take a few tries for your dog to associate the potty with the pad or paper. If you catch your dog in the middle of an accident, don't yell or scream. Simply pick him up or guide him over to the pad to finish eliminating.
The Clicker Training Method

The concept
Some dog owners have found potty training success through the use of clicker training. A clicker can be purchased at any pet store and can easily be incorporated into potty training for a quick elimination solution.
Choose a potty spot
When you take your dog outside, direct him to a particular area every single time. He will begin to associate this place with elimination.
Observe and report
Watch your dog closely and patiently; he may sniff around for a few moments here.
Use the code word
As soon as your dog begins to urinate, quietly speak the chosen code word or phrase. Hearing this word or phrase will tell your dog this is the place to go potty.
Click and treat
Use the clicker just as your dog is finishing elimination, so click while the behavior is still happening but not too soon in the process. You don't want your dog to stop peeing before he is all done because he hears the click and thinks he's getting a treat.
Give your dog praise
After you've used the clicker and given your dog a treat, shower him with some love and praise for a job well done.
The Crate Training Method

The concept
Whether your dog is a puppy or a grown adult, crate training has been proven to lead to quicker potty training success. By instinct, dogs look for a den, a private spot of their own, and they don't want to urinate or defecate in their den.
Make sure the crate is the correct size
For your dog's comfort, he should be able to stand up, lie down, and turn around in the crate comfortably.
Create a schedule
Your dog should never be left in a crate for more than seven hours straight as he may be forced to eliminate inside his crate because he can't wait any longer to go. Puppies in particular need to be let out of their crate to go potty more frequently. Typically, a puppy can "hold" his need to eliminate one hour for every month of his age (i.e., a two-month-old dog should be able to wait two hours between potty breaks).
Be consistent
Don't let your dog wander around the house randomly during the day and expect there to be no accidents. Always put your dog in his crate when you are not home, so he learns to wait until he is released from his crate and outside before eliminating.
Make the crate a home
Include light bedding, one or two of your dog's favorite toys, and even an old shirt that has your scent on it to make the crate a cozy den for your dog.
Praise your pup
Remember to praise your dog immediately whenever he goes to the bathroom outside. A treat or two, or simply a "Good boy!" will work wonders.
By Amy Caldwell
Published: 10/24/2017, edited: 01/08/2021
---