How to Train Your Older Dog to Duck Hunt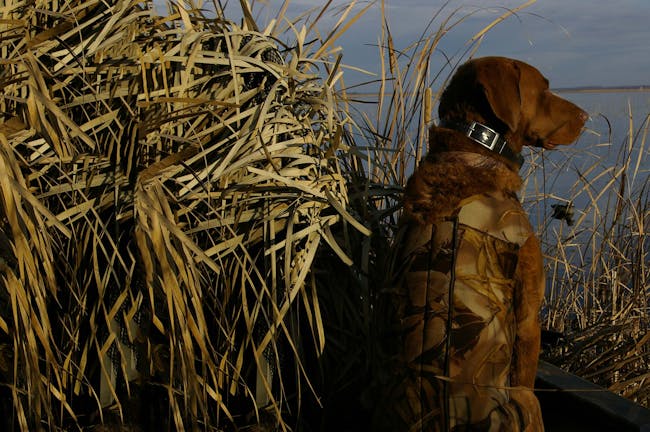 Introduction
The air is still, the grass is long, and your shotgun rests in your hands as you see a duck on the pond ahead. You take aim, exhale one long and steady breath, and pull the trigger. There is a flurry of feathers and the scatter of nearby birds, but you found your target. The problem is, that target is floating in a pond and you're not in the mood for an early morning swim.
What makes it more frustrating is that you have an old dog at home who might not be as energetic as he once was, but he'd still make for an awesome hunting companion if you could only train an old dog new tricks. Well, you can! Older dogs still have what it takes to hunt by your side, and with the right training, you'll never have to worry about losing a duck, because your dog will retrieve it for you.
Top
Defining Tasks
You might be surprised to see how much your dog is still up for a challenge, and definitely one that involves hunting prey like ducks. What does training your dog to hunt ducks look like though? It involves perseverance and patience. Old dogs are often stuck in their ways, so training can take months.
It will entail familiarizing your dog with ducks and other animals. It will involve rigorous obedience training and use of numerous commands. It will also involve basic retrieval training before you venture out into the wild. The training will, therefore, need to be done in stages and consistency will be essential. All of this will be challenging and time-consuming, but it will save you losing a kill and time spent wading through water for your prize. Although the challenge may seem big, you and your aging dog have the history and this experience will bring you closer than ever before.
Top
Getting Started
Before you begin training you will need to ensure you have several things. You will need toy ducks and raw meat or duck scent to help familiarize your dog with the prey. You will also need enough outside space to practice in, free from distractions, plus access to a pond or lake. In addition, for one method you will need a rope and an anchor. Note that all methods will require a serious amount of treats!
Apart from that, just come equipped with a hard-working attitude and a serious amount of patience.
Now you're armed with the essentials, it's time to do battle with the duck!
Top
The Rope and Anchor Method

Preparing the rope
Spray your decoy duck with duck scent or rub raw meat on to it. Then securely tie one end of your rope to your decoy duck and pull the rope through the anchor, allowing you to hold the other end of the rope.
Drop the anchor into the pond
However, make sure you are still holding onto the other end of the rope. The decoy is now ready to imitate a diving duck, which is a common reaction when wounded.
Encourage your dog to retrieve the duck
If verbal encouragement doesn't work, send a friend in to swim near to the decoy and call your dog over.
Pull the rope as soon as your dog gets close
This will give the illusion of an injured diving duck. Once you have pulled the rope, let it go to allow your dog to bring it back to you. As soon as he returns it to you, smother him with praise and give him a treat. Repeat this practice until your dog instinctively goes for the diving duck.
Go wild
Now put that practice into action in a real hunt. As soon as your dog sees a flailing duck in the pond, he will naturally charge towards it and return it to you. Just as you did in practice, reward and praise him generously. Your dog might be old, but he's still up to the challenge!
The Decoy Training Method

Time to get swimming
Before you get going on retrieval training, you need to regularly take your dog to a pond to ensure he is comfortable and confident in the water. Go at least two or three times a week until he can swim with ease.
Duck decoy time
You now need to make sure your dog understands the difference between decoys and the real thing. On land, use a waterfowl scented dummy and decoys to reinforce this point. Put decoys a fair distance from the dog, then throw the dummy for your dog so he learns to distinguish between the different scents. Reward your dog with a treat and praise him when he retrieves the dummy.
Back to the swimming
Now it's time to throw the scent-filled duck dummy into a pond. Once your dog is in the water, call them back and again shower him with praise when he returns the dummy.
Get him used to guns
Before practicing on the real thing, your dog needs to feel at ease with the sound of a gun and hunting in general. So take your dog to do some practice shooting, and command him to sit and wait while you aim and fire.
The real deal
Now it's time to put your practice to the test. Make sure you reward the dog as soon as he returns the duck to your feet. As long as you reinforce the retrieval behavior with treats, this will quickly become habit. All that's left to do now is keep hunting!
The Obedience Commands Method

Teach 'down'
Before taking your old friend out to hunt ducks in the wild, you need to ensure he responds to two commands first. At home, hold a treat in front of your dog's nose, then slowly lead his head to the floor and as soon as he lays down, say 'down' and release the treat. Keep practicing this until you no longer need to use the treat.
Teach 'stay'
If your old friend hasn't been taught to stay, you will need to teach him that too. Have him to lie down, say 'stay' firmly and take a step back. Then call them over and praise them for waiting and give them the treat. Repeat this, extending how far away you move from him until you can actually leave the room and no food incentive is needed.
Teach him to retrieve
Your old dog also needs to be able to bring back something you throw for him if he is to successfully help you hunt ducks. So throw a tennis ball and encourage him to chase it. If he doesn't fetch it himself, run with him to the ball and then give them the treat when you both get to it. Repeat this process, helping less and less, until he retrieves the ball himself. Now replace the ball with a toy duck and practice with it in a pond, again until they bring it back every time.
Practice with liquid duck scent
Now spray the toy duck with the liquid scent and repeat the retrieval training for several days. This will ensure your dog is familiar with the smell of a duck and knows to bring that scent back to you.
It's finally time to go hunting
When you are out hunting, be sure to quietly reward your dog for staying while you are stalking and aiming at the duck. Again, ensure you hugely praise your dog as soon as it brings the duck to your feet. Keep practicing and, after several months, you could have a lean, mean retrieving machine at your side.
By Amy Caldwell
Published: 09/21/2017, edited: 01/08/2021
---