How to Train Your Dog to Bring You Something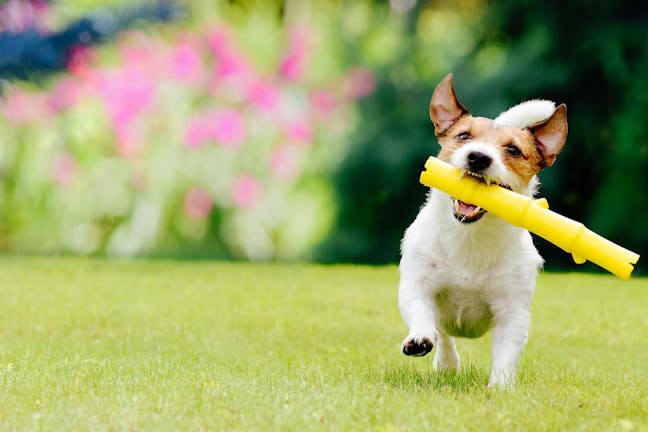 Introduction
Teaching your dog to bring you something can be helpful as well as offer fun and games for you both. Put your dog to work and make him your own personal little errand pup by teaching him to fetch and bring you various items around the house. Aside from being a fun party trick and impressing your friends, teaching your dog to fetch anything is useful, especially if you could use some extra help around the house. Some dogs like to fetch balls, and some like to fetch sticks. But imagine if you could teach your dog to fetch you the remote control while you are staying comfortably on the couch. Alternatively, imagine if you could teach your dog to bring you your newspaper or your slippers. Let the lazy Sundays begin as you put your dog to work and have a little fun at the same time.
Top
Defining Tasks
Teaching the 'fetch' command is simple, however, to get your dog to fully understand your expectations you may want to break fetch down into a few different sections. You can start with a command of an item, so your dog understands what it is he is fetching. A ball, newspaper, slippers, remote control, stick, etc. are common items to ask your dog to bring to you. Once your dog understands the item he is holding, you will need to teach him to pick it up and then bring it to you. After he has it, you will need to teach him to give it to you or to drop it on command. Though fetching is not a complicated command, it will take some time to break these individual commands into smaller segments and focus on one at a time. Expect to spend several minutes a day on each command. As your dog gets used to each new command, build upon the fetch commands until your dog comprehends the whole thing as one whole fun game to play.
Top
Getting Started
To teach your dog to fetch and bring you something, you are going to need several objects, such as a ball, a rope toy, a stick, and any other item you would like to teach your dog to fetch for you. Start with one item at a time and work your way to different objects as your dog gets used to each command. Be sure to have several treats on hand to reward your dog for good behavior and positive reactions. Be prepared with lots of time to spend with him, teaching each step of these methods.
Top
The Clicker Training Method

Identify
Give your dog a toy and teach the name or the toy, which will be your command for that item. Once she takes the toy, say the command and then click and treat. If she is accustomed to clicker training, she should drop the toy when she hears the click because she knows a treat is coming.
Repeat
Continue practicing this 10 to 15 minutes a day for about a week, getting her to understand the toy you are putting in her mouth is the item you will want her to retrieve. As she is more versed in understanding the object and command, set it on the ground and use the command word, encouraging her to pick it up in her mouth. Every time she puts it in her mouth, click and treat.
Drop it
Once your dog has retrieving the toy understood, begin to use the command 'drop it.' With a treat and your clicker in one hand, give your dog the toy and command word, but don't treat just yet. Use the command to 'drop it.' Show her the treat as you use the command. As soon as she drops the toy, click and treat.
Toss the toy
Once your dog can pick up the item and drop it by command, practice tossing the toy a few feet away and asking your dog to pick it up with the command and drop it once she brings it back to you. Be sure to click and treat once you have the toy from your dog.
Practice, practice, practice
Keep practicing these steps with your dog and various toys using a different command for each item. Spend some time on each item before moving to the next to avoid confusion. Extend the distance between you and the toy each time your dog successfully has a new distance down. Over time, you should be able to have your dog fetch an item she knows the command for and bring it to you. Be sure to click and treat each time she brings you something.

Start slow
If your dog doesn't love to retrieve, start fetch off slowly with minimal distance.
Fetch
Using a squeaky toy, get your dog's attention and say the word 'fetch.'
Mouth
With the toy squeaking, have your dog place the toy in his mouth and use the word 'fetch' again.
Repeat
Repeat this process several times until your dog takes the squeaky toy from you as soon as you say the command, 'fetch'.
Distance
Increase your distance slowly by dropping the squeaky toy at your feet and say "fetch". At this point, your dog should recognize the word "fetch" means he needs to put the squeaky toy in his mouth.
Add more distance
Over time, add more distance by tossing the toy across the room or several feet in front of you across your yard space using the word "fetch".
Practice
Get your dog to chase the squeaky toy and bring it back to you by increasing your distance and using the command word, "fetch". As your dog comprehends the fetch command, trade the squeaky toy for other items within your household with the same process, adding cue words to identify them so he understands the name of the object you wish him to fetch and what your expectations are for fetching and bringing it back to you.
Make the connection
Ultimately, your dog wants to play, so throwing a ball out will cause him to chase. The more you throw the ball, the more he will chase. The more your dog chases the ball, the more he realizes you were the one throwing it, and he needs to bring it back if he expects you to throw it again. Play chase with your dog for several minutes to get him used to chasing the ball, grabbing it, and putting it in his mouth. He may need some treat motivation to bring it back to you, but the second part of bringing it back to you is important, so get him moving on bringing it back to you.
Hold your dog back
Once your dog is a chaser and is excited to run after a ball that you have thrown, hold on to her leash for a few seconds after you toss the ball, making her wait to go get it. After she has waited a few extra seconds and can see where the ball was tossed, to let her go and use the word 'fetch' as you release her.
Retrieve
You will need your dog to bring the ball back to you. Entice your dog either with a treat or a second toy to bring her and the toy back. Once your dog comes back to you, offer her a treat and toss the next ball out.
Encourage
Some dogs will need to be encouraged to bring a ball back after it's been tossed out several times. Call your dog back using her name and offering rewards and verbal praise.
Practice
Repeat these steps with various objects your dog recognizes as toys such as ropes, balls, and sticks. Each time you toss the toys out, use the word fetch with the expectation that your dog will chase after it, retrieve it, and bring it back to you.
Household items
Once your dog has this chase and fetch method down, introduce other items to your dog and repeat the same steps above. It is not necessary to toss items which are not toys, but add cue words to identify them. Be sure to use a command word your dog can recognize, so he knows to retrieve that same item again.
By Amy Caldwell
Published: 10/27/2017, edited: 01/08/2021
---