How to Train Your Dog to Bring You a Beer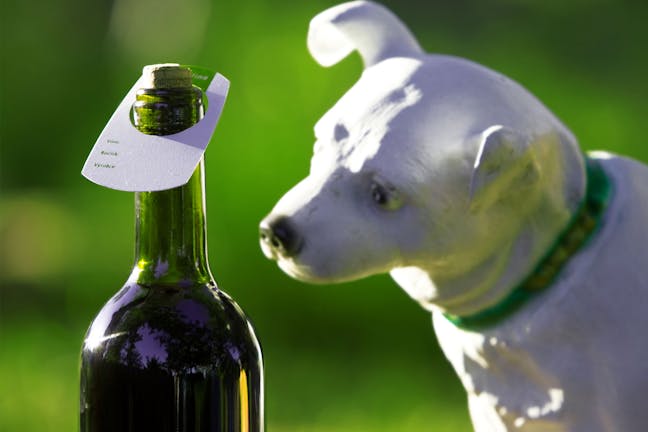 Introduction
How many times have you been sitting in your favorite recliner watching the game and wished your dog could bring you a beer? Imagine the fun of being able to tell your dog to "Bring me a beer!" and watching your pup head into the kitchen and come back with an ice cold one just for you. One of the most important things to keep in mind as you prepare to train your pup to fetch a beer is that you must teach him 4 separate tricks, open the fridge door, grab the beer, close the fridge door, and of course, bring the beer to you.
One word of warning, you might want to consider getting a mini-fridge for your beer to help keep your pup from treating the fridge as his own private smorgasbord. But of course, you can also clear the bottom shelf and use it to place your beer in such a manner as to make it easier for your dog to grab one for you.
Top
Defining Tasks
Basically, you are training your dog to obey your command of "Grab me a beer" or "Fetch me a beer" without hesitation. This entails having your dog walk to the refrigerator, open the door, grab a fresh brew, and then close the door before bringing the beer to you. No matter how you look at this trick, it is going to take a little extra time for your dog to master.  You should try and set aside fifteen minutes a day just for training.
You should start by training your dog to open the refrigerator door using a rope tied to the handle. If your dog likes to play tug of war with a rope, this should be pretty easy. However, the last thing you need is your fridge door being left open. Using treats to teach your dog to hop up on the door will help him learn to close the door.
Like most forms of training, you need to start out working with your pup when the house is nice and quiet so there will be no distractions during training time. Choose a specific command for this trick such as "Get me a beer!" or perhaps "Fetch me a beer!" No matter what you choose for a command, be sure to use the same one every time in a firm and commanding voice. One that will let your pup know you expect him to obey without making it sound like you are angry.
It cannot be said enough that you need to be patient as this is a very hard trick for your dog to master. It is going to take several weeks or longer for your pup to master it. However, once he masters it, your pup will love being asked to bring you a cold brew the next time the game is on.
Top
Getting Started
Start training your dog to bring you a beer when the house is nice and quiet so that there is nothing to distract him from learning what you are trying to teach him. You will need a few supplies and other things to help make the training sessions go more smoothly. These include:
Tons of treats: As rewards for getting each step of the training process.

A length of rope: To tie to the refrigerator handle so your pup can open the refrigerator door.

Several cans or bottles of your favorite beer: Consider them training tools.

Endless patience: No training exercise will ever come to fruition unless you have plenty of patience.

Choose your command: Choose the command you plan to use for this trick and be ready to stick to it.

A quiet house: The best time to work on training is to start out in a nice quiet house, free of distractions.
One last thought, training your dog to fetch a beer will be much easier if your dog already knows how to "Fetch" and how to open and close the refrigerator door. Otherwise, you will have to teach him these "tricks" first. Be patient, it will take your pup quite a while to learn to do this for you on a regular basis.
Top
The Fast and Dirty Method
Teach your dog to tug on a rope
If he doesn't already know how to open the fridge, tie the rope to the door handle. Get him excited enough to pull on the rope hard enough to open the door. When he does, give him a treat and lots of praise
Practice with an empty
Take an empty beer can or bottle and play fetch with your pup until he is comfortable grabbing it and bringing it to you. Reward him with treats and praise.
Position the empty
Now place the empty can on the bottom shelf of your fridge, leaving plenty of room around it so your pup can grab it.
Add command
Prop the door open and, using your chosen command, to get your dog to grab the beer and bring it to you. More treats.
Practice
The final step is to put it all together using your command and plenty of patience, walk your dog through the entire process, including opening and closing the door. Each time he does it right, give him plenty of love, praise, and treats.

Open the fridge
Tie a rope to the door handle of your refrigerator, give your command, and encourage your dog to pull on the rope. Give him a treat and lots of praise when he gets it right.
Set the stage
Stock the fridge right by placing the beer, soda, or bottle of water on the bottom shelf with plenty of space around them and prop the door open.
Retrieve and release
Give your dog the fetch command so that he reaches in the fridge and grabs a beverage for you, then give him the "Drop It!" command so that he drops the beer right in your hand. Give him a treat and lots of praise.
Increase distance
Move further away from the fridge and give him the same commands. When he obeys praise him and give him a treat.
Include all the steps
Now close the door and tell your dog to "Go get me a beer" or your chosen command. Walk with him into the kitchen. He should open the door, grab a beer, and hand it to you.
Practice
All that is left is to keep moving further away from the fridge and work with your pup until he gets it right. Remember lots of patience, praise and treats will make your efforts more successful.

Beer fetch
Start by playing fetch with your dog using a beer can placed in front of the fridge door. While you are doing this, use your chosen command and treat him when he gets it right.
Practice with a treat
Take one of his favorite treats and have him watch you place it on the bottom shelf of the fridge. Train your dog to open the fridge door to get his treat. Repeat as needed.
Add a beer
Replace the treat with a can of your favorite beer, encourage your pup to grab the beer and hand him the treat he is expecting when he gets the door open and grabs the beer.
Increase distance
Slowly move further and further away from the fridge and keep repeating the command and rewarding him when he gets it right.
Close the door
Finally, you may have to teach him to close the door using another treat tucked behind the door in such a way that your pup must push the door closed to get the treat. Put it all together and enjoy your next cold beer.
By Amy Caldwell
Published: 10/08/2017, edited: 01/08/2021
---